NEW DELHI: It's a different cricket tour in more than one sense for India — amid the pandemic; in a biosecure bubble; with one, possibly two, key players missing; and the influential captain to fly back mid-tour. But it's always good to know the problems before facing a challenge; that way you can prepare better, chalk out your plans A, B and C accordingly. It's never easy, though, especially when you are touring Australia.
Still, coming on the back of the IPL, India knew the in-form resources to tap into and have taken them on board for the assignment, which begins with the ODI leg from Friday. And former India wicketkeeper-batsman Kiran More feels the visitors will need to preserve and progress on the long tour, especially to take the load off key pacers Jasprit Bumrah and Mohammed Shami.
When More saw Shikhar Dhawan's tweet showcasing the retro jersey, from the 1992 World Cup, that India will be donning during the ODIs, the former sifted through hangers in his cricket wardrobe to find that iconic T-shirt.
(Shikhar Dhawan and Kiran More – Twitter Photos)
"I remember, we were on a ship at the Sydney Harbour (during 1992 World Cup). A group photograph of all the teams was taken aboard the ship. Some cocktails and snacks were also served. Those days there were no mobile phones…so we missed out on the photographs, individual photographs and all those things, but still the memories remain," said More talking to Timesofindia.com.
"We had a great time, had a great laugh with the Pakistani players. Everybody was watching each other, because of the colours," he recalled, before getting down to some serious talk around the current tour.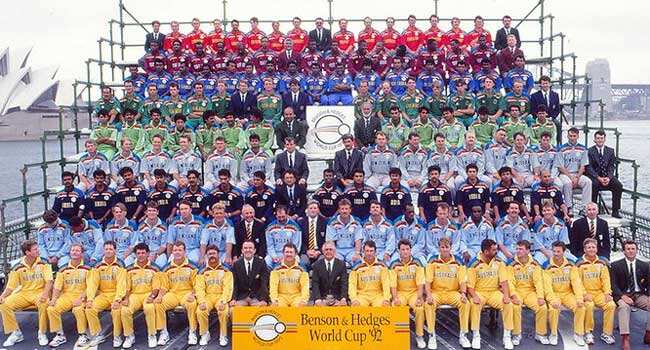 (Photo: @cricketworldcup Twitter)
India will play three ODIs, followed by as many T20Is and a four-Test series for the Border-Gavaskar Trophy on the almost two-month-long tour.
"In one-dayers and T20s, we will definitely do well. We have a good team," More said to begin with.
India will be without regular white-ball opener Rohit Sharma, who is nursing a hamstring injury which he picked up while leading Mumbai to their fifth IPL title in the UAE earlier this month.
More didn't mince words in saying that Rohit will be missed at the top of the order, but the former stumper and chief selector has the Indian opening positions sorted in his mind.
India have the option to choose between KL Rahul, Mayank Agarwal and Shubman Gill as openers in the ODIs to partner Shikhar Dhawan.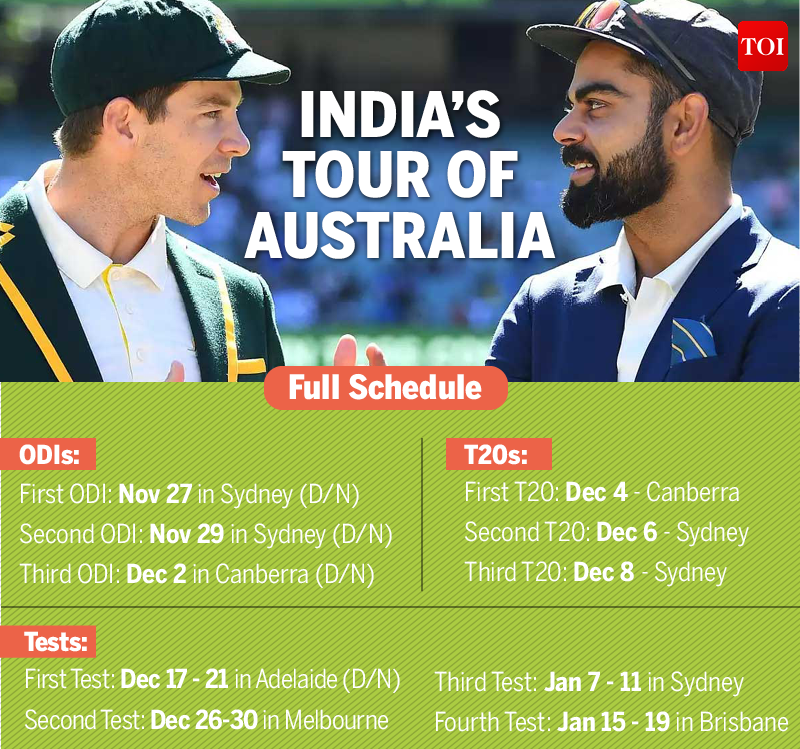 "When a player is at his peak and he gets injured, definitely we are going to miss him," More said about Rohit's absence from the ODIs and T20Is on the tour. Rohit's availability for the Tests is still in doubt, while he recovers at the National Cricket Academy in Bengaluru.
"Shikhar Dhawan will definitely open, considering the left-right combination. Whether KL Rahul goes No. 2 or No. 3, it doesn't make any difference. You are in the game all the time, the top four always are…one-day or T20 format doesn't make any difference," More further told TimesofIndia.com.
"I am very impressed with Mayank, the way he has come back in T20 and one-day cricket. But when you look at experience in international cricket, KL Rahul and Shikhar Dhawan is my choice (for opening combination)."
Rahul, the vice-captain for white-ball games on the current tour in the absence of Rohit Sharma, will have the added responsibility of keeping wickets with Rishabh Pant excluded. Though India will have the option of playing Sanju Samson as wicketkeeper, Rahul will be the first-choice 'keeper-batsman. Samson is the back-up keeper in the ODI and T20 squads.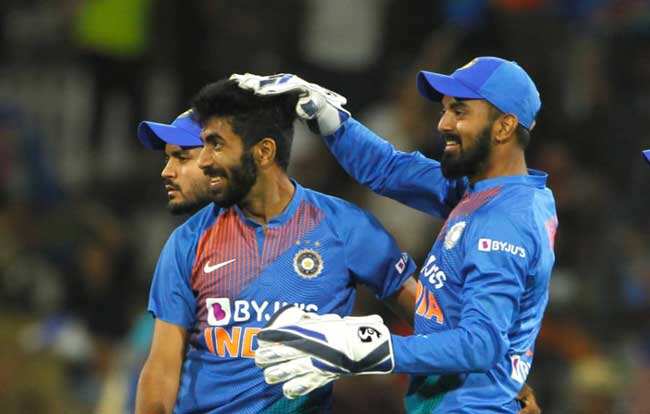 (Photo: Jasprit Bumrah Twitter)
Rahul performed with aplomb in his dual role as wicketkeeper-batsman and captain while leading Kings XI Punjab in the IPL. In fact, he was on top of the list of run-getters this season with 670 runs, including a century and five fifties.
"He is a better wicketkeeper than a fielder for me. Plus, if we play him as a wicketkeeper-batsman, we can include an additional batsman or bowler," said More. "In one-day cricket, it could be a little bit tougher for KL Rahul, but I think he has managed it very well (in T20s). He has a fantastic technique as a wicketkeeper. He was a wicketkeeper when he started his cricketing career."
"Rahul has got pretty good hands. So we should not be worried about that," the former wicketkeeper, who played 49 Tests and 94 ODIs for India, further said.
More, perhaps, hit the nail on the head when he scrolled his fingers across the list of bowlers, led by Bumrah and Shami.
The fast-bowling duo will share the major workload of the tour across all three formats. And when it comes to the Test series, they will be bowling about 200 overs each. That, according to More, calls for preservation, considering the four-Test series is the last leg of the tour.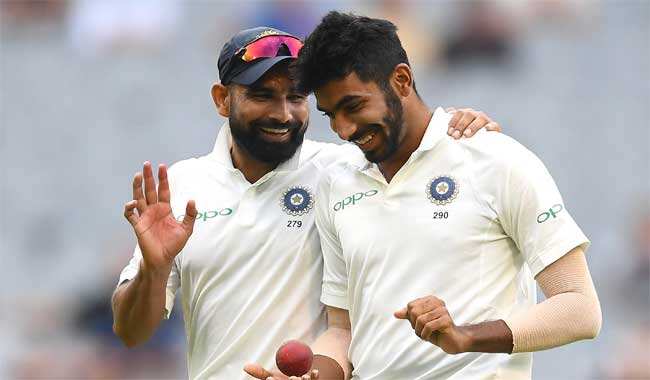 (Mohammed Shami and Jasprit Bumrah – Getty Images)
"The only thing I am worried about is Bumrah. He is going to play one-dayers, T20s and Test matches. I think I will look at resting Bumrah, and also Shami. Preserve more for Test cricket."
"I will prefer to give rest to them in some of the matches, depending on the situation in the series, doesn't matter if I lose also….Go with one guy in one T20 with two young fast bowlers, even (in) one-day cricket. I will not go with both of them, need to rest one of them all the time. Play two matches, give rest, then play two matches," More told TimesofIndia.com.
"We need to give an opportunity to the young fast bowlers (Navdeep Saini, Shardul Thakur, Deepak Chahar), who can get experience before the next World Cup."
More was also not averse to the idea of playing three spinners in the ODIs.
"In ODIs, it depends on what sort of batting line-up Australia plays. I don't mind going even with three spinners at some of the grounds…because we have Jadeja who can bat also and bowl those ten overs," said More.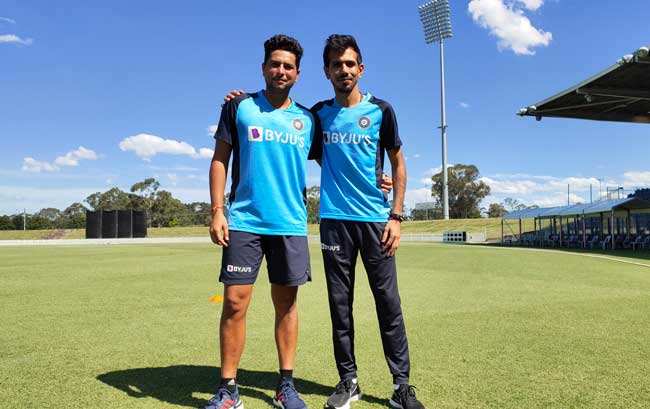 (Kuldeep Yadav and Yuzvendra Chahal – BCCI Photo)
To conclude the conversation, More was quizzed on two counts.
Which jersey he would prefer – the cleaner version of the 1992 World Cup or the current retro one, which also is loaded with advertisers' logos?
"We need sponsors. Without that, any sport won't go on," he replied.
And would he, as a selector, have picked Suryakumar Yadav in the squad?
"Anytime. Not just this year, I would have picked him a year back." came the reply.