Rafael Nadal's back is holding up. It reflected in the service speeds the world No. 2 clocked en route to the Australian Open quarterfinals on Monday.
The Spaniard, broken twice by the tricky Italian Fabio Fognini in his fourth-round engagement, went for more on his delivery, hitting the 200-kmph mark.
On a day when ninth-seeded Matteo Berrettini pulled out of his round-of-16 clash against Stefanos Tsitsipas with a strained abdomen, 'injury' was the topic of conversation around Melbourne Park.
Nadal, who ousted Fognini 6-3, 6-4, 6-2 and will face the fifth-seeded Greek in the quarterfinals, went for the lines in his press conference.
Nadal — looking to make history with a second Australian Open crown, that will take his Grand Slam tally to 21 and also make him the only player in the Open Era to win every major title at least twice — had hurt his lower back when quarantining in Adelaide.
As a result, his serve took serious stick, but with every outing, the 20-time major winner, has gradually upped the pace. On Monday, the muscular Mallorcan averaged 182-kmph and 160-kmph on his first and second serves. Top seed Novak Djokovic claimed to have torn an abdominal muscle en route to his third-round win over American Taylor Fritz.
On Sunday, following his four-set win over Canadian Milos Raonic, Djokovic refused to talk details. "I did an MRI, I know what it is, but I don't want to talk about it now. I'm still in the tournament. I don't want to speculate too much about it," he explained.
A week ago, former WTA No. 1 Victoria Azarenka, took exception when quizzed about her physical struggles.
The Belarussian appeared to be gasping on court, having called for an inhaler during her first-round match. She was of the opinion that journalists shouldn't ask for details on a player's health condition as it is private. Djokovic was quick to second Azarenka.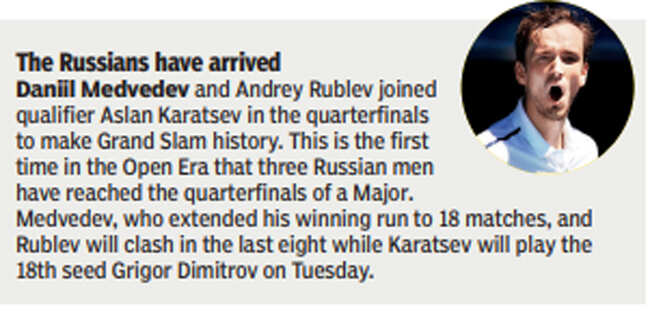 "I understand that media want to understand what's going on. They want to communicate that to people, tennis fans, it creates a buzz, it creates a story," the world No. 1 said.
"I agree with Vika, I don't feel comfortable to talk about it." The Serb plays German Alexander Zverev in the quarterfinals on Tuesday.
The 33-year-old, who wore a grimace and clutched his side from time to time during his night game on Sunday, particularly when he lunged to his backhand side, said there was only a 'very slim chance' of aggravating the injury by continuing in the tournament. Nadal, who sat out of Spain's ATP Cup campaign two weeks ago, was forced to reveal his physical condition, but he wouldn't have it any other way.
Rid of the discomfort finally, the 34-year-old, for the first time in 19 days, was able to put in the work he wants to on the practice court.
"It's not healthy to hide, also it's difficult (to hide). There are people that knows when you are practising and when you are not," Nadal pointed out.
"At some point you're going to have questions to answer. I don't want to play that game." The Spaniard underlined that winning a Grand Slam when injured was more allegory than actuality. "If you really have physical problems, you will not win," he said, adding.
"If you have some pain and it's not putting you in a situation that limits you, maybe you can find a way. But when you really, really have an injury, it's impossible to win a tournament like this."