NEW DELHI: 'Chase your dreams, they do come true' – that's what master blaster Sachin Tendulkar said in front of a jam-packed Wankhede Stadium while bidding adieu to international cricket in 2013.
That statement fits perfectly into the script of many Indian cricketers, who have gone from being little known players to Indian stars.
It is also true for left-arm pace sensation Thangarasu Natarajan from Salem in Tamil Nadu whose cricketing journey and sudden rise to prominence is nothing short of a fairytale.
And luck has played a big role in propelling him from a net bowler to a Team India strike bowler in a very short period of time.
NATARAJAN AND THE LUCK FACTOR
On October 26, 2020, the BCCI named the India squads for the tour of Australia. A footnote in their press release read – 'Four additional bowlers – Kamlesh Nagarkoti, Kartik Tyagi, Ishan Porel and T. Natarajan – will travel with the Indian contingent.'
At this stage, Natarajan was scheduled to travel with the Indian team as one of four net bowlers. There was no plan to include him in the limited overs squads for the ODI and T20 series vs Australia.
The 29 year old Natarajan was on the net bowlers' list thanks to his performance in IPL 2020. The quiet medium pacer, son of a daily wage labourer, who incredibly began playing with a cricket ball only at the age of 20, finished as the second-highest wicket-taker for the Sunrisers Hyderabad, behind Rashid Khan, with 16 wickets. At this time he was looking forward to bowling to the Indian batsmen in the nets.
But fate had other plans for Natarajan, known for his yorker bowling skills, especially in the death overs.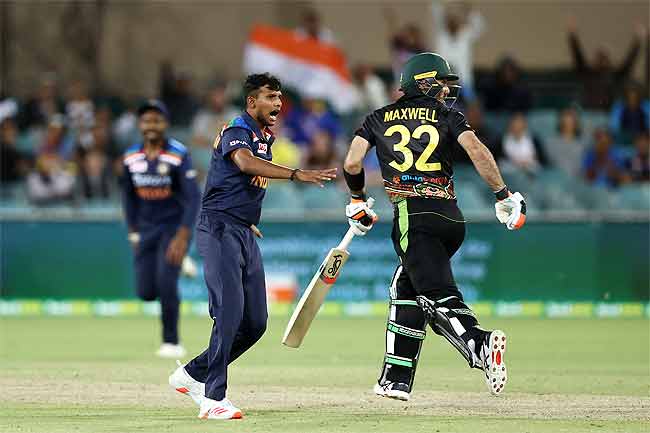 Thangarasu Natarajan during the 1st T20I against Australia at Manuka Oval in Canberra. (Getty Images)
FIRST STROKE OF LUCK
In the initial squad list sent out by the BCCI, another 29 year old cricketer from Tamil Nadu, Varun Chakravarthy found a place in the Indian T20 squad. Chakravarthy had impressed the selectors with his performances in IPL 2020, where he played for the Kolkata Knight Riders. His best figures in this season were – 5/20 vs the Delhi Capitals.
However, as it turned out, Chakravarthy, for whom this was a maiden national call-up had been nursing a shoulder injury. He aggravated it while playing in the IPL and despite joining the bio secure bubble with the rest of the Indian squad in the UAE (after KKR's campaign ended in IPL 2020) he was unable to bowl in the nets due to the injury. BCCI was informed about this and on November 9, 2020 the BCCI sent out a revised press release with updates on multiple players, including Chakravarthy. The release read -'The spinner (Chakravarthy) has been ruled out of the T20I series owing to a shoulder injury. The selectors have named T Natarajan as a replacement.'
With this Natarajan had his maiden national call-up. He was officially in the Indian T20 squad.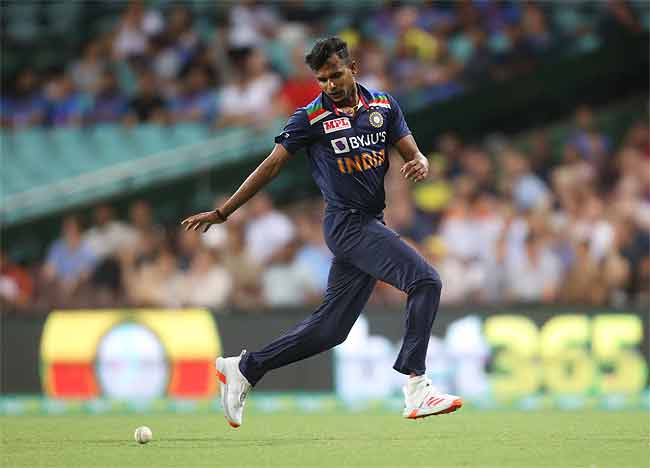 Thangarasu Natarajan during the 2nd T20I against Australia in Sydney. (Reuters Photo)
SECOND STROKE OF LUCK
On November 26, 2020 there was another fitness update on players from the BCCI. This time there was an update on fast bowler Navdeep Saini, who had complained of back spasms. BCCI needed to add a back-up bowler to the ODI squad, for the series beginning the next day (Nov 27) in Sydney. And the player picked as was once again T Natarajan. The BCCI press release on that day read -'The All-India Senior Selection Committee has added T Natarajan to India's squad for the three-match ODI series against Australia starting Friday.
Navdeep Saini complained of back spasm and Natarajan has been added as a back-up.'
Suddenly, from being a net bowler, sent to Australia to help the Indian batsman prepare for the tour, Natarajan was in both the limited overs squads. The stars had aligned for the 29 year old. He was now in line to make his international debut.
He got that chance in the 3rd ODI vs Australia, after the hosts had taken an unassailable 2-0 lead in the ODI series. Making his international debut at the Manuka Oval in Canberra, Natarajan bowled 10 overs and claimed two wickets, conceding 70 runs. He dismissed Marnus Labuschagne for 7 runs and then removed Ashton Agar (28) to claim his second international wicket.
Natarajan, who made his debut at 29, was handed his ODI debut cap by India captain Virat Kohli ahead of the third ODI in Canberra. Natarajan, after dismissing Labuschagne, looked up at the sky and celebrated his maiden international wicket. He had grabbed the opportunity luck had presented him with with both hands.
Though 70 runs in 10 overs are somewhat expensive figures, the courage displayed by the 29-year-old from Tamil Nadu in helping India defend a total of 302 in his very first international match, in batting friendly conditions was praised by one and all. The last over he bowled in that match was the 48th over. He took Agar's wicket, at a time Agar was on a run a ball 28 and Australia needed a very gettable 25 runs off 18 balls. He gave away just 4 runs in that over.
And with that Natarajan announced himself to the world as a player who despite being thrown into the deep end had the ability to remain calm and be effective.
"India was looking for a left-arm prospect for a long time. Zaheer, Nehra played regularly for India and for a long time. They were the backbone of Indian cricket. If you are a left-arm bowler, life is not easy for the opposition. Luck is always important. You need 15 to 20 percent of luck when you get a break. Luck was with Natarajan. Natarajan got the opportunity and he proved himself," former India cricketer Kiran More told Timesofindia.com.
After an impressive ODI debut, Natarajan was picked in the playing XI for the first T20I vs the Aussies. He was handed his T20I cap by India's premier pacer Jasprit Bumrah. This is a format Natarajan had recently done well in, in the IPL. The expectations were high. But then again international cricket is a totally different kettle of fish. Would Natarajan be able to deliver the goods?
The answer to that question turned out to be an emphatic yes. Natarajan claimed three wickets in his maiden T20I outing, taking the wickets of D'Arcy Short, Glenn Maxwell, and Mitchell Starc in the match.
In the second T20, Natarajan again accounted for Short and dismissed him for 9 runs, and then he removed the very dangerous Moises Henriques to claim 2 for 20 in his allotted 4 overs.
Hardik Pandya, who was adjudged Man of the match for this game later said that he had expected Natarajan to receive the award, since his bowling made sure the Aussies got at least 10-15 runs less than what they could have.
With Jasprit Bumrah being rested for the T20s, Virat Kohli turned to Natarajan, a man who has so far played just three international matches as his strike bowler.
Luck was on Natarajan's side, as far as getting the opportunities were concerned, but the 29 year old made the most of those opportunities, delivering under pressure. If he had buckled and stuttered, chances are the next opportunity at this level would take a long time to come around. Now, he is firmly in India's limited overs scheme of things. Not a bad place to be in, with a T20 World Cup coming up next year.
Has Team India finally found the left arm medium pacer they were looking for?
Former India pacer Chetan Sharma has watched Natarajan bowl closely in the series and he feels the 29-year-old can go a long way.
"India have been in search of a left-arm pacer for a long time. After Zaheer, Nehra, and Pathan, we hardly got a left-arm pacer in the team who can serve and bowl for long. This youngster (Natarajan) has really done a great job," he said.
"There is a lot of hope. He has utilised and grabbed the opportunity from both hands. He has got the chance and he has availed it. That's what this youngster has done and I am sure he will go a long way," Sharma told TimesofIndia.com.
VVS Laxman earlier described Natarjan as a 'quintessential nice guy always eager to learn and improve'.
"He (Natarajan) is mentally strong. He is a talented bowler and he really bowled well in the series. Saini got unfit and Varun Chakravarthy was ruled out and then Natarajan got the opportunity. That means his luck was by his side. And most importantly, he grabbed the opportunity with both hands. He needs to continue his good work and has to work hard. He has proved himself that he is good enough to play that level of cricket. India have been looking for a left-arm pacer. They tried Khaleel and a couple of more. But credit goes to selectors and team management who showed trust in Natarajan," More told TimesofIndia.com.
Natarajan can bowl at full throttle, especially in the death overs, and can finish strong. He doesn't seem to be the kind to be ruffled by pressure or playing on the big stage. There's no doubt that the yorker specialist is a talent that the team management will look to nurture going ahead. Luck played a big role in Natarajan getting to where he is now. The road ahead will depend on his hard work, determination, how quickly he learns and gets better, team support and of course a slice of luck as well perhaps.